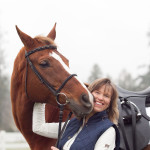 Optimal performance through whole health 

Proactive, natural healthcare for the dedicated rider 

As an equestrienne competing in dressage,

Dr. Christie Winkelman

knows what is important to horsewomen: we want to feel our best in order to excel at our passion!  Because she was a therapist before attending medical school, she understands the how pressures of competition and the demands of horse ownership and training can affect your physical health, as well as how your health can affect your riding enjoyment and performance.
Optimal functioning of body and mind will increase your riding enjoyment, physical stamina, focus/concentration, and ultimately lead to more productive training sessions and success in competition.  No matter how talented your horse, if you are not at your best mentally, physically, and emotionally, you will not excel to your full potential.
And resolving:
Weight issues
Allergies
Anxiety
Arthritis
Fatigue
Focus and concentration problems
Gastrointestinal distress
Gynecological conditions
Hormonal imbalance; menstrual irregularities
Insomnia
Menopausal symptoms
Muscle tightness
Back/neck pain
Osteoporosis
Thyroid problems
Post concussion care
Post injury care
It's time to start focusing on the half of the equation above the saddle!