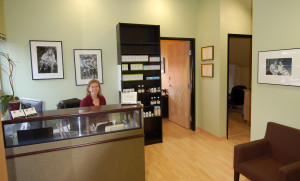 You may call us at the number below or click here to send an email.  To request an appointment, please include your preferences for physician and appointment times. We will respond to your question or appointment request within one working day.  
Phone: 503.501.5001 
Fax: 503.546.0145 
Email:
General Information: info@insightstohealth.net
Dr. Christie Winkelman, clinic director: drcwinkelman@insightstohealth.net
Dr. Gil Winkelman: drgwinkelman@insightstohealth.net
Dr. Brooke Huffman: drhuffman@insightstohealth.net
Dr. Nolan Noska: drnoska@insightstohealth.net
Our Address:
Village Offices, Suite 302
2929 SW Multnomah Blvd.
Portland, OR 97219
What Our Clients are Saying
I saw Dr. Gil Winkelman a number of times regarding some issues I had with sinus congestion. He suggested that I follow a 'anti-inflammatory' diet and prescribed some homeopathic remedies that were quite helpful. I noticed a definite improvement in my condition and was impressed by the connection between this diet and the congestion. Dr. Winkelman was very knowledgeable of the possible naturopathic treatments and was very patient and easy to work with. I highly recommend him for your naturopathic doctor needs! J. Holmes, Portland OR
For the most part, I am a healthy person, who takes care of myself. I have discovered that, as in most professions, even doctors can lose their zest for their work and I didn't always get the best advice or care. I was recently referred to Dr. Christie Winkelman, ND and have finally found in her, a doctor who is passionate about patient care! I think of her as my "health detective" because she takes the time to listen to me, asks questions and does research, in order to resolve my health concerns. The clinic is new, has a great location & lots of free parking. It has a welcoming atmosphere and a hot beverage bar for patients. Very upscale! J. Jones, Portland OR
When we started neurofeedback at Insights to Health I didn't know what to expect.  My son has autism, and treatments elsewhere had made no improvements for him.  Dr. Winkelman started with a map and explained what was going on in Kyle's brain and how we could use neurofeedback to help him.  He also started some other natural treatments. Within a few months we were seeing major changes with communication, speech, and less stimming.  Within six months, Kyle was mainstreamed into a normal classroom!  I can't believe how many changes we've seen in such a short time. I'm so grateful to Dr. Winkelman and Insights to Health–thank you!

M.J., 38 year old female, Portland, OR
I had an old sprained ankle injury that had not healed in two years.  When Dr. Winkelman wanted to do cold laser on it, I was skeptical but agreed, since everything else she has done for me has been effective!  After one treatment, my pain was gone and has not returned in three months. Since then we have treated other areas of old pains and those have greatly reduced as well.  I cannot believe how much better my body is feeling, and how used to my prior level of pain I had become.  I am skiing again this year!  Thank you Insights to Health!
I have never had a doctor this caring before. I have never had a doctor that would allow well over an hour listening intently to all my ailments.

To have a doctor who wants to treat me as a unique individual is rare, in my opinion.

I am a mother of four. Naturally, I was too busy taking care of my family and naturally neglected yours truly, sigh.

I went to see Dr. Huffman with the last attempt to find relief for my symptoms. I have to confess I was a tad skeptical and at the same time curious about this naturopathic approach. After an hour or so of talking (mostly me talking), we agreed on a treatment plan. (You must commit and follow the instructions in order for it to work!) Within a week and much to my pleasant surprise, I felt better. Oh, and another surprise- Dr. Huffman called to see how I'm feeling. Jolly nice.

Although this is a pricey approach, the outcome is priceless. It is a kinder and gentler approach to a long-term healthier you.

Signed, Mother of Four Te…
My journey to naturopathic medicine was certainly not planned, but has been life changing. I had no expectations either high or low, but what I discovered and learned along the way has exceeded any expectations I might have had. Dr. Christie has a large capacity for compassion and most important listens to everything you say and also seems to understand the things you might not be able to express. I am getting results and feel better than I have in years! I am also learning that the part of naturopathic medicine that I did not anticipate is learning to be proactive and invest in your body, change your lifestyle instead of waiting for everything to collapse! Dr. Christie has taught me to look at the physicial, emotional and spiritual aspects of my life; they are all connected and need to work in harmony. This has been a life changing experience and I am so grateful my journey led me to Dr. Christie!

N.M., 55 year old female, Portland, OR
Internet research led me to Dr. Christie Winkelman, hoping to get off the asthma medication I had been on for 35 years ~ I wanted to give my body a rest from the ongoing medications.  I have been free of the daily asthma medications for almost two years and can count on one hand the occasions I have needed an emergency inhaler over the past 14 months.  Dr. Winkelman's gentle and thorough approach to health has not only greatly improved my breathing, but  has also helped me lose 50 pounds, improve my blood chemistry, and I am virtually free from arthritis pain and stiffness.   I am working with Dr. Gil Winkelman and neurofeedback to regulate my blood pressure.

I continue to make life-style improvements and have greatly benefited from both of the Dr. Winkelman's holistic approach to patient care: their ongoing support of me as a person and their continual encouragement  is helping me meet challenges and accomplish personal goals.

D.S., 63 year old female, Portland, OR
I have been so happy with the care that I have received for my two kids, ages 5 and 1. Dr. Christie Winkelman has given easy, simple steps that we have added to our routines to support their health. My husband was skeptical at first because they were healthy to begin with, but recently told me he was wrong and that he believes in what we are doing because the kids have continued to be healthy and thrive. It feels good to know that I am doing everything I can do support their health and development in these early stages of their lives!

N.T., 36 year old female,  Anacortes, WA
When I decided to go to "Insights to Health" to see Dr. Gil Winkelman for the first time it was because like a lot of people, I wanted to explore what Naturopathic Medicine could offer. After having a couple of issues that came up with being a 40 year old male who hasn't always eaten right throughout his life, but became fed up with conventional medical doctors who only had time to discuss two issues per visit, spending no more than fifteen minutes with me and then just handing me a bunch of prescriptions that really didn't fix my problems and seemed to make things worse.

Well let's just say that going Dr. Winkelman is not like going to any other doctor you have ever been to and to just give him a glowing recommendation is an understatement.

Dr. Gil Winkelman and Insights to Health is the best-kept health secret in Portland, Oregon because there is no other doctor in Portland that listens to your health problems and concerns with more knowledge, understanding and empathy than Dr.…
Dr. Noska has been a great support in improving my overall health and balance. In the time I have been working with him I have noticed huge improvements in my overall health and look forward to further advancement. There has been improvement in my energy levels, sleep patterns, and digestive health along with pain management/control.  Dr. Noska's evaluation was extremely thorough.  I've been impressed with his support and understanding, as well as his knowledge of homeopathic and nutritional options while helping me to incorporate them into my daily lifestyle. I would recommend Dr. Noska to anyone who is looking to improve their ailments and achieve overall balance. A.V., 45 year old female, Portland, OR
Subscribe to Our Monthly Newsletter
We offer health tips, recipes and other news!
Learn more about how you can stay healthy or become healthier. Our newsletter offers you tips and advice on various health topics.